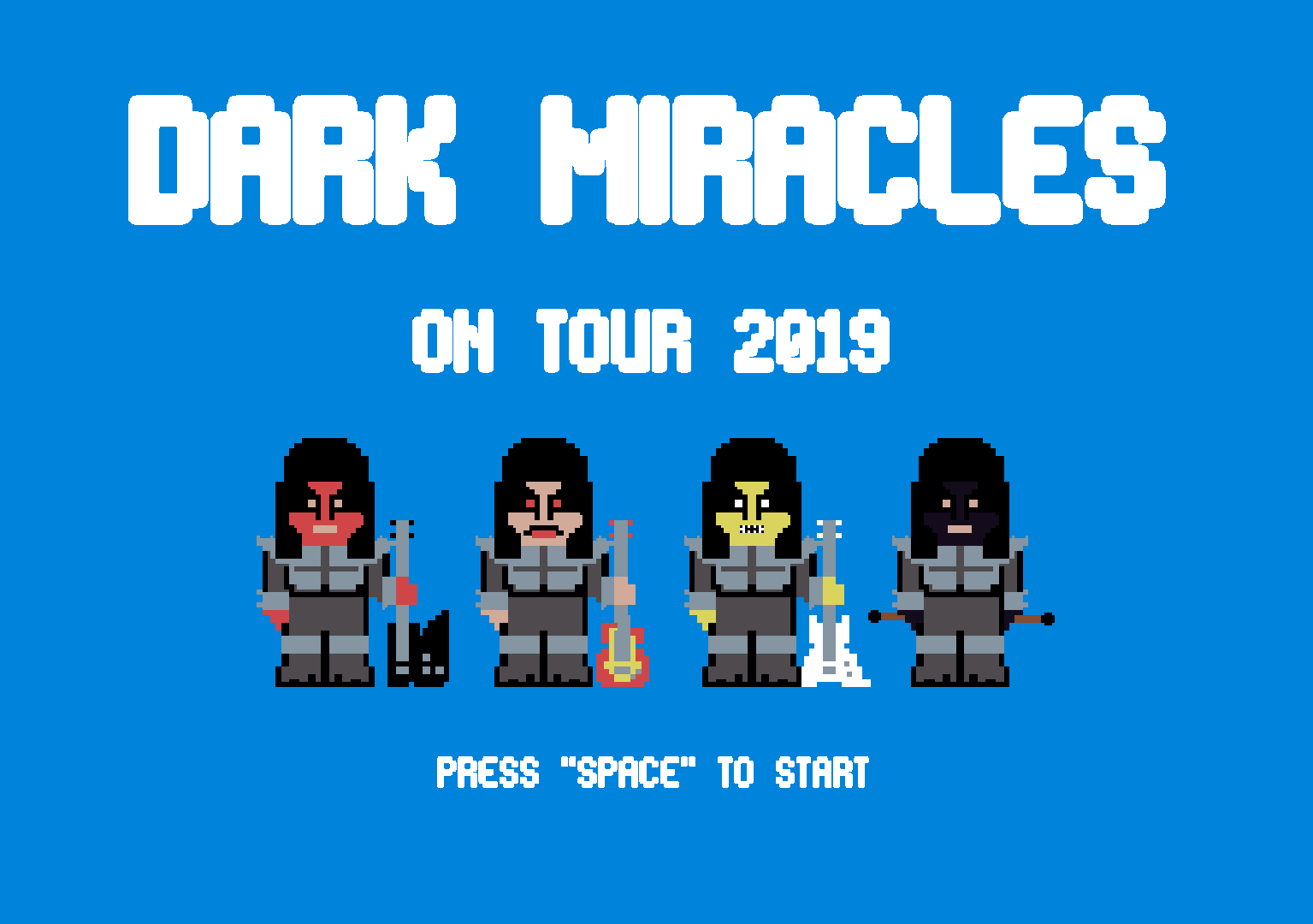 Dark Miracles On Tour
Playmaker game jam 2019, done with Unity game engine and Playmaker addon.
My take on "Dark Miracles" theme
A band named Dark Miracles is coming to your town for their 2019 tour. They need your help to hang their poster around and help them get sold out!
The game is an auto-runner and the player needs to avoid obstacles, jump the platforms and hang posters (when next to markers). Hang all 60 posters to complete the game.
How to play

Start game: <Space>


Jump: <Space>

Hang poster (when next to a marker): <Space>

Restart: <Escape>
That's it :)

Credits
- Metal Ages Audio: Credit Marcelo Fernandez (https://opengameart.org/content/metal-ages)
- Heavy Metal Menu Loop: Credit Black-Cloak-of-Night (https://www.newgrounds.com/audio/listen/172290)
- Tiles credit: Lanea Zimmerman (Sharm) & bluecarrot16 (https://opengameart.org/node/41378), & Casper Nilsson (https://opengameart.org/content/lpc-cnilsson)
- SFX: Jute (https://opengameart.org/content/items-door-fire-weapon-hits)
- Background: fridaruiz (https://opengameart.org/content/pixel-night-city)

- Unity3D packages: Cinemachine, 2d-tiles-extra
- KISS band for inspiration.
Install instructions
Unzip the folder
Double-click "DarkMiraclesOnTour"